BLOOM + GET STARTED KIT
ITEM: BLOOM (#BLMBM)+ GET STARTED KIT(#BQ3422-BLMBM)
BLOOM
NEW 2022
Embroidery and Sewing Machine
If you want to step up your creativity to include embroidery, the Baby Lock Bloom fits the bill. The Bloom delivers all the features you need including 342 built-in designs, 251 built-in stitches, convenient one-touch buttons, Design Database Transfer, and more. Move your sewing projects to the next level with the Bloom!
The Baby Lock Bloom embroidery and sewing machine features include:
342 Built-In Embroidery Designs
251 Built-In Stitches
5" x 7" Embroidery Field
Wi-Fi Enabled for Design Database Transfer - Click here to learn more and download software.
Cuts Jump Stitches
Scroll down to learn more and see additional features.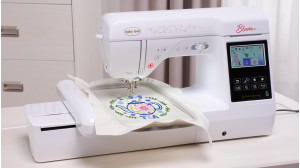 MULTI-POSITION EMBROIDERY HOOP
Embroider larger designs without having to re-hoop your fabric with the 5" x 12" Multi-Position hoop.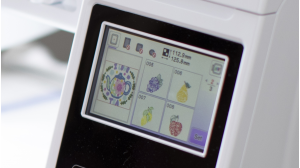 342 BUILT-IN EMBROIDERY DESIGNS
With 342 built-in embroidery designs, you'll always find inspiration in the Bloom.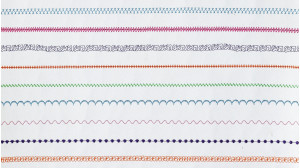 251 BUILT-IN STITCHES
With 251 built-in stitches, you'll have many creative options. From numerous utility stitches to decorative ones, you'll find something for every project.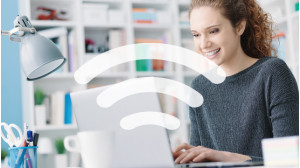 WI-FI ENABLED
By using Design Database Transfer, you can easily send your designs from your computer to the machine. Also, when WLAN connection is enabled, you will receive notifications when new updates are available for your machine.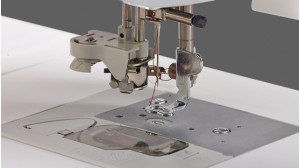 ADVANCED NEEDLE THREADER
Threading a needle has never been easier than with this innovative threader. With just a few simple motions, your needle is threaded and ready to use - it's so easy, you can do it with one hand!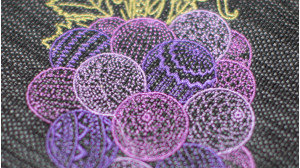 CUTS JUMP STITCHES
Easily and automatically cut threads before moving to another segment of your design. Thread no longer travels across the hoop or your design, making your embroidery cleaner than ever.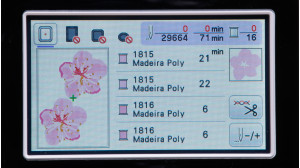 COLOR SORT
When embroidering the same design more than one time in the same hoop, activating Color Sort will rearrange the embroidery order to minimize stopping for thread changes.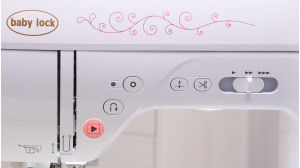 PUSH-BUTTON FEATURES
Push-button features make it easy to choose your settings on the Vesta. You can position the needle up or down, cut thread, raise and lower the presser foot, and start and stop sewing.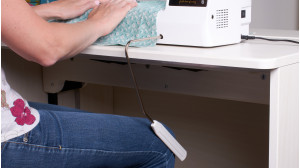 HANDS-FREE KNEE LIFT
Effortlessly raise the presser foot with a tap of the knee, leaving your hands free for control and precision in your sewing.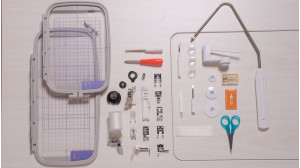 INCLUDED ACCESSORIES
The Bloom comes with 13 feet, 2 embroidery hoops and other great accessories to help you create. For a full list, refer to the machine manual.
MORE MACHINE DETAILS
Convenience Features
• Convenient One-Touch Buttons for ○ Start/Stop
○ Reverse sewing
○ Needle up/down
○ Thread cutter
Sewing speed control

Needle plate with scale in inches and centimeters

Hands-free Presser Foot Lift

Electronic foot control with separate power cord

Free arm with drop feed lever

Accessory storage compartment

Built-in Operational Guide
Included Accessories

Knee lift

10 Snap on presser feet
○ Buttonhole
○ Overcasting
○ Monogramming
○ Zipper
○ Zig zag
○ Blind stitch
○ Button fitting
○ Non-stick
○ Open toe
○ Stitch guide
3 Screw on presser feet
○ Adjustable zipper/piping
○ Embroidery
○ Free-Motion Quilting
Hoops and Grids
○ 5" x 7" (130mm x 180mm) Embroidery Hoop and Grid
○ 5" x 13" (130mm x 300mm) Multi-position Embroidery Hoop and Grid

Hard Case

Alternate Bobbin Case

Center Pin for pre-wound bobbins

Horizontal spool pin

Screwdrivers

60-Day Trial of Online Sewing Classes
Warranty
• 25 years limited
• 10 years parts
• 5 years computer circuit
• 5 years electrical
• 1 year labor
*We will help you learn this amazing machine, and you also have the entire Baby Lock team ready to help.
When you buy from us, the relationship begins with your purchase and we care about your creative success.
BLOOM MODEL: BLMBM 25 YEAR - LIMITED 10 YEAR - PARTS 5 YEAR - COMPUTER CUIRCUT 5 YEAR - ELECTRICAL 1 YEAR - LABOR